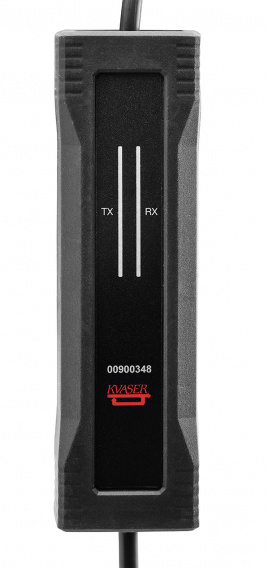 Kvaser U100-C
The latest laptops and PCs come with USB-C slots only, so the Kvaser U100-C (01340-7) has been added to Kvaser's U100 range of robust, single-channel CAN/CAN FD to USB interfaces. This interface is based on the standard Kvaser U100 with DB-9 connector, but replaces the standard USB type "A" connector with the smaller USB-C format. As with other devices in the range, this is powered via the USB bus. Robust, galvanically-reinforced and signal and power isolated, the Kvaser U100 range offers enhanced electrical protection, a vibration, shock and drop-proof housing and high-quality cabling that establishes a new reference in CAN interface design.
Product Details
Specifications
•Supports CAN FD, up to 8 Mbit/s (with correct physical layer implementation).
•Supports both 11-bit (CAN 2.0A) and 29-bit (CAN 2.0B active) identifiers.
•Lightweight, glass fibre reinforced polyamide housing, overmolded with TPE.
•Reinforced galvanic isolation, design validated with 5000 VAC rms applied for 60 seconds.
•20000 msg/s, each timestamped with a resolution of 100 μs.
•Compatible with J1939, CANopen, NMEA 2000® and DeviceNet.
•Fully compatible with applications written for other Kvaser CAN hardware with Kvaser CANlib.
CAN Interface Products
Protocol

CAN

Number of CAN Channels

1
Operating Conditions
CAN Modes

CAN FD and CAN 2.0B

Isolation

Galvanic Isolation with 5000 VAC rms applied for 60 seconds

Connectors

DSUB 9-pin