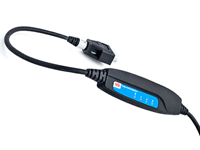 Kvaser Leaf Professional HS
Non-returnable
NOTE: The Kvaser Leaf Professional HS (73-30130-00243-2) has been marked "End of Life". Existing customers are encouraged to migrate to the Kvaser Leaf Pro HS v2 (K-00843-4)



Kvaser Leaf Professional is a single channel, high performance USB interface for CAN. Along with the broadest temperature range and 20K messages per second, the Professional version includes Kvaser's patented MagiSync feature for synchronized time-stamping, Galvanic Isolation for protection against voltage spikes, and Auto Transmit for placing messages on the bus at set intervals.

Ships with one High-Speed CAN channel and a D-sub connector.
Supports High Speed CAN (ISO 11898-2).
Automatic and accurate clock synchronization between several Kvaser Leaf Professional interfaces through Kvaser MagiSync™. The technical solution is unique and patented by Kvaser.
Handles up to 20,000 messages per second, time-stamped and synchronized with a precision of 1 microsecond.
Auto transmit buffers, to send messages on a defined interval.
Auto response buffers, to send messages on a defined event.
Supports both 11-bit (CAN 2.0A) and 29-bit (CAN 2.0B active) identifiers.
Excellent error handling.
Supports silent mode for analyzing tools.
Low power consumption.
Excellent EMC performance.
Polyurethane cabling for extreme environments.
Galvanic isolation of the CAN bus driver stage to protect the hardware.
Labeled CAN channel for easy identification of the supported physical layer.
Equipped with a 110 cm (44 in.) long USB cable and a 30 cm (12 in.) long CAN cable.
Interfaces the CAN bus with a 9-pin D-SUB connector.
Designed for USB 2.0, backward compliant with USB 1.1.
Quick and easy Plug-and-Play installation.
A practically unlimited number of Kvaser Leafs can be connected via standard USB hubs for simultaneous use on a single PC.