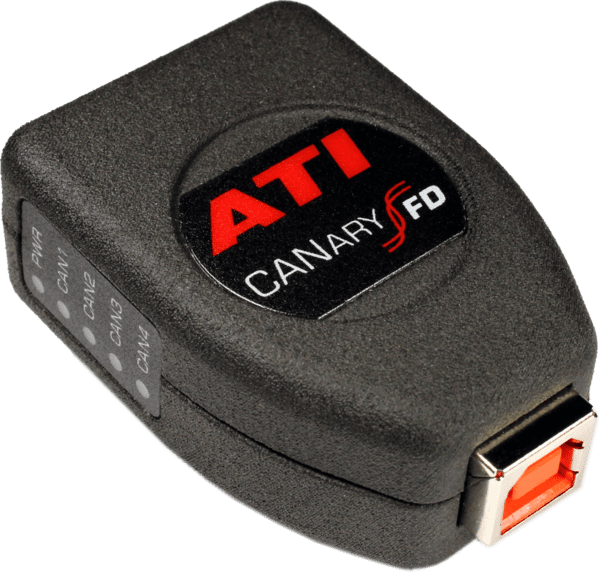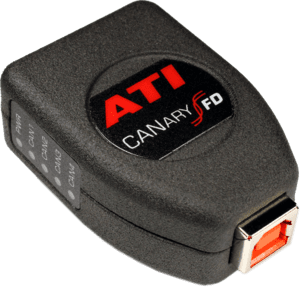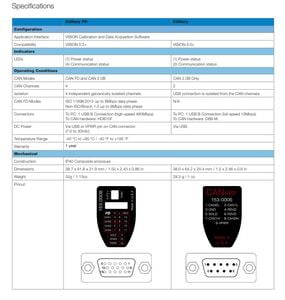 CANaryFD
CANary FD is a pocket-sized CAN interface for ATI's VISION calibration and Data Acquisition system. CANary FD uses CAN channel to bridge data between ATI's data acquisition hardware, ECUs (using CCP or XCP), or other CAN devices that are compatible with VISION Calibration and Data Acquisition Software.
The CANary FD is designed to handle the increased data available on CAN FD networks while retaining all the features of the standard CANary. The CANary FD easily connects to PC over USB that provides a simple method to acquire CAN data with VISION using any of the 4 galvanically isolated channels.
The new J2534/2-2019 API allows usage of multiple CAN channels with 3rd party software applications and maintains support for the GMW17753 method.
Product Details
Specifications
ATI DAQ hardware, including EMX Data Acquisition Series, EDAQ Data Acquisition Series, Voltage

Output Module (VOM), and Vehicle Information Display (VID)

ASAM ECU Communication Standards, including CCP and XCP

Any generic CAN hardware utilizing database files

IP40 Composite enclosure made of robust Nylon 11

Number of CAN Channels: 4

J2534 Driver Available

Weight: 32g / 1.13oz

Dimensions: 38.7 x 61.8 x 21.9 mm /1.52 x 2.43 x 0.86 in

Temperature Range -40 °C to +85 °C

Warranty 1 year
CAN Interface Products
Protocol

CAN FD

Number of CAN Channels

4
Operating Conditions
CAN Modes

CAN FD and CAN 2.0B

CAN Channels

4

Isolation

4 Independent galvanically isolated channels

Connectors

To PC: 1 USB B Connection (high-speed 480 Mbps) To CAN Hardware: HDB15F
Indicators
LEDs

(1) Power Status (4) Communication Status
Configuration
Application Interface

VISION Calibration and Data Acquisition Software

Compatibility

VISION 5.2+