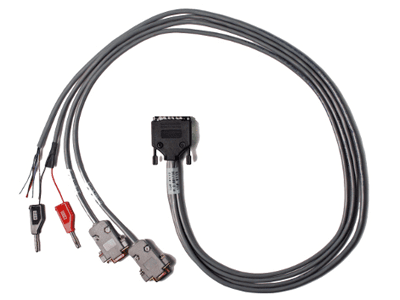 Cable CANverter Harness
CANverter wire harness. For use with the CANverter. This cable contains a DB15 male connector on one end and two (2) DB9 connectors on the other end, plus a pair of banana jacks for power and open ended fly lead for I/O. Use this cables to connect the CANverter to power while programming and to access the CAN Bus. A foil shield surrounds the cable conductors and connects the metal DSUB shells. The wire gauge is 28AWG. These cables are gray in color.
DB9 Male Connector is for CAN I/O

DB9 Female Connector is for RS232 to program the CANverter

Banana Jacks, Red (Supply Power) and Black (Ground)

Fly Leads unterminated to allow connection to I/O devices.